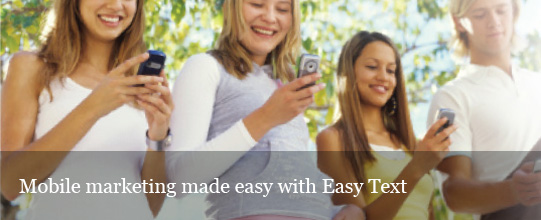 Text has become one of the fastest growing marketing mediums of recent times.
Billions of messages are sent every day around the world. Targeting your consumer with tailored, relevant and bespoke messages with information, offers and news is a valuable and cost effective way of marketing to new and existing consumers.
Setting up, managing and reporting on mobile marketing campaigns is easy using Easy Text™.
Message campaigns bespoke to each individual customer giving news, offers or extracting information from customer is easy using Easy Text™. Businesses use the service for promoting events, gigs, and special offers to customers based on past behaviour such as visit frequencies, music or gig preferences, responses to previous campaigns and such like. Text to screen functionality is great for watching voting results or getting feedback from customers.
Bulk Messaging
Easy Text™ allows customers to send large messaging campaigns out via direct UK network links to customers cost effectively and efficiently. All message campaigns are pre-screened for duplicate messages, invalid numbers and opt out ensuring costs are kept to a minimum. The messages are then sent directly to UK networks avoiding the issues associated with sending messages via overseas operators. Creating the message, compiling target lists and setting all the campaign parameters are easy and quick.
Competitions
A wide variety of text in, prize draw and similar competition mechanics are available as part of Easy Text™. Setting the competition parameters and launching campaigns takes seconds using the Easy Text™ service.