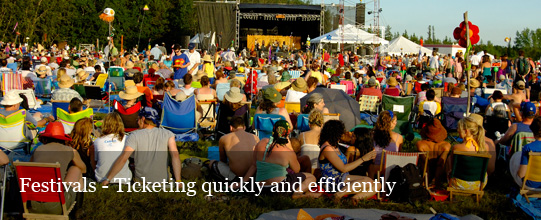 Setting up and selling a ticketed event has never been easier using Trinity Mobile's™ ticketing solution.
Mobile, email/print at home or traditional ticketing solutions are all offered as part of the Easy Ticket™ service.
Ticketing services are provided as a white labelled application allowing customers to sell their own tickets directly through their web and mobile internet (WAP) sites. This can either be done via a full service ticket package where Trinity takes care of all aspects of the ticketing sales cycle including doing the transaction or can be added as an additional feature to an existing ticketing service through a simple integration process. Trinity can also sell tickets via its own branded ticketing site: www.Clubticks.com.
Easy Ticket™: Festivals
Mobile ticketing has been used for a huge variety of live events from large scale concerts of over 10,000 people to more personal back room gigs. Having a ticket easily accessible on the mobile phone makes the ticketing process for events simple, quick and efficient.
Trinity Mobile™ can supply the complete end-to-end ticketing service or simply the mobile element of the ticketing service. Trinity has integrated its services with major concert and festival promoters, radio stations, bands around the world enabling them to offer mobile tickets to their customers. Fans simply buy their ticket in the usual way, receive the ticket directly on to their phone, attend the gig, scan the ticket and have a great time.
Venues and events can utilise all the data generated from the ticket sale and then promote future events to the fans.
Merchandising and coupon promotions can be run in parallel using barcode mobile coupons that can be redeemed at a venue for specific special offers.